CONTAINERS FOR EVERY SITUATION
We specialize in providing environmental solutions with the proper equipment that meet the unique goals and circumstances of our customers. Our Roll Off fleet is outfitted with route management technology and real time camera systems that allow us to handle your material safely and efficiently throughout North Texas. We handle a variety of waste and recycling materials from all types of businesses including logistic warehouses and manufacturing facilities. We also provide Class 1 and Class 2 non-hazardous manifested waste services which are hauled to a properly licensed disposal facility in properly designed containers for safe transport.
Waste Diversion Through Innovative 
Recycling

 Technologies.

We believe recycling should be easy and the programs flexible so that each customer can decide which options are best suited to their needs. Our LEED Green Associates have years of hands-on experience to provide you the most efficient and economical recycling solution that meet your needs. We can customize a program that works for your location or you can choose from the following programs:
Cardboard Only
Paper Only
Commingled
Single Stream
Materials collected are processed at our various recycling facilities which sort, process, and ship out various products to end markets.
STORM WATER? WE GOT YOU COVERED.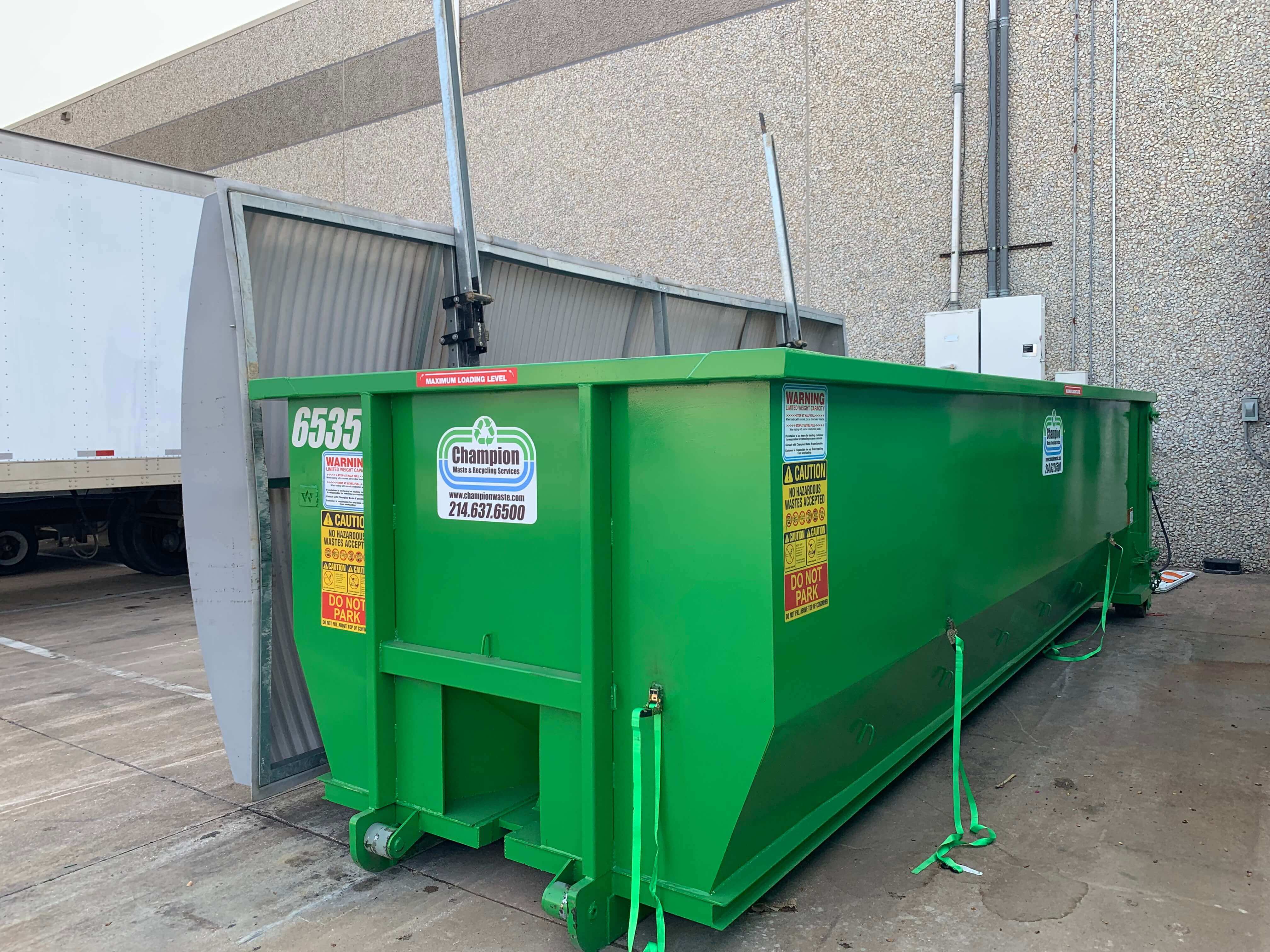 Need help with stormwater compliance? We offer affordable and durable covers for your open top containers. Our covers are built with a UV protected, impact resistance HDPE material that opens to 90 degrees so you can access the entire container. Our standard cover is permanently mounted and travels with the container at all times. Locks can also be added to the container to prevent unauthorized dumping or theft.
We also offer 2 additional options:
Removable Cover: Allows cover to be easily transferred to other containers using a forklift.
Stand-Alone Cover: Mounted on a frame that is anchor bolted to a concrete slab or footing with a guide rail system. This enables the container to be swapped out from underneath the cover eliminating service downtime.
RIGHT SIZE TO DO THE JOB SAFE
10yd Open Top
11' x 8' x 4'
Designed For
Concrete
Dirt
Rock
Sludge
Small Clean Up
20yd Open Top
22' x 8' x 4'
Designed For
Concrete
Dirt
Rock
Sludge
Small Clean Up
30yd Open Top
22' x 8'x 6'
Designed For
Construction
Industrial
Metal
Remodels
Wood
40yd Open Top
22' x 8'x 6'
Designed For
Industrial
Commercial
Wood
Metal
Remodels
Please be advised that for the safety of our employees, and our customers we DO NOT PROVIDE 40yd open tops to construction sites regardless of the material being loaded.
For More Information Contact Us 214.637.6500